Welcome to St. Stephens! Our parish, of about 100 families, is clustered with the three churches in Beloit. We are a parish with great spirit, and have many parishioners who are involved in the general upkeep of the parish, teaching our children Faith Formation, and offering a number of social and fundraising events . We boast of being a "Catholic Faith Community," taking pride in our Catholic witness to the Clinton Community. 
Join us  for the Eucharist or for any  parish event.

 
Monsignor Dan's Weekly Message
Thou

ghts for the Week
Comments and suggestions have been very helpful from you our parishioners these weekends as we discuss future parish projects and how to accomplish them. Maintaining our buildings and grounds is being given priority. Funding proposals are forthcoming. Thank you all for participating in this important work for St. Stephen's.Sandy Lee will be assisting our parish in the area of bookkeeping. We are one of several parishes that use Sandy's consulting service. This will allow our accountant, Judy Wendtland, to reduce her hours and still be in our parish office each week.
Father's Day history dates back to Europe where it was celebrated on the feast of St. Joseph, March 19, the "nourisher of the Lord." "As a civic celebration in the United States, it was inaugurated in the early 20th century to complement Mother's Day." When it comes to vocations to priesthood and religious life, fathers and mothers play a key role in fostering an openness to this calling. On this Father's Day weekend we recognize all fathers whose example of sacrifice and devotion for their families sews the seeds of encouragement to their children to be open to God's calling in their lives. Please pray for an increase in vocations to church vocations. Happy Father's Day!
God bless you!
Monsignor Dan Ganshert
45th Priesthood Anniversary
Did You Know...that our beloved Pastor, Monsignor Ganshert, is good at keeping secrets?! On May 23rd, Arlene received an email from an unfamiliar person informing us that "tomorrow is Monsignor's Anniversary of his priesthood." Upon calling, she discovered that Rita was a parishioner and friend at his former parish in Lancaster. Her message continued: "You are so lucky to have him as your pastor as he is an amazing man!" Arlene's response: "Yes indeed, we have most certainly made that discovery! We are indeed blessed with his presence." Arlene did some research and discovered that Monsignor Ganshert was ordained at St. Raphael Cathedral in Madison on May 24, 1974. Last Friday was his 45th Anniversary of Priesthood.
Happy Anniversary and may God continue to bless you abundantly!
Congratulations Graduates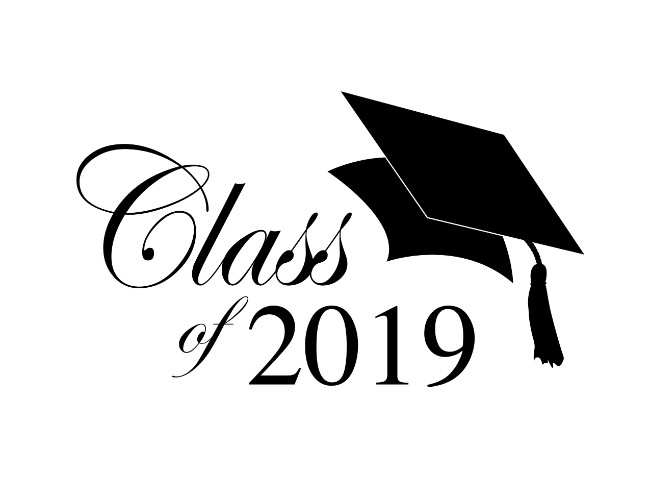 Congratulations and God's Blessings to the St. Stephen Parishioner Graduates: Brenna Mullooly, Shannon Mullooly, Jackson Nelson, Caden Payne, Cameron Wellnitz. If any names of parishioner graduates have been omitted, please inform us in the office. (676-2241) Graduates will be honored at the 9:00 a.m. Mass on Sunday, June 9th
VBS
VACATION BIBLE SCHOOL at OLA Church is June 17 - 21 for children in grades K through 5with older kids and adults needed as helpers. The theme is DISCOVERING GOD IN CREATION. Registration forms can be found on the OLA parish website (olabeloit.com) from Rob Olsen (Director of Rel. Ed. or contact the FF of-fice at 608-362-1231.A SPECIAL VBS for TEENS and ADULTS will be Tuesday, June 18 at 6:30 PM in Assumption Hall. In keeping with the theme, Discovering God in Creation, we will explore our Catholic teaching about creation with a review of theencyclical by Pope Francis, LAUDATO SI. Free of charge. Any questions, call Rob at 608-362-1231. Anyone from St. Stephen Parish interested in attending either program, please call Rob at 608-362-1231.
Text
Bishop Donald J. Hying, 5th Bishop of the Diocese of Madison, will be installed June 25, 2019Monsignor Ganshert, along with two of our Pastoral Council Members: Shawn Skaife and Leo Mullooly will represent our parish at the installation ceremony at St. Maria Goretti Church on June 25 at 11:00 a.m
Special Wedding Anniversary Mass
What ANNIVERSARY are YOU Celebrating? Bishop Donald Hying will be recognizing couples celebrating 50,55, 60 or more years of marriage and newlyweds celebrating their first three years on Sunday, August 11, with a Mass at 2:00 p.m.at St. Francis Xavier in Cross Plans. Mass will be followed by a cake, coffee and punch reception. This is an invitation-only event! Please cal the parish office (608-676-2241) or email: [email protected] by June 3, and let us know you are celebrating one of these special anniversaries in 2019. Please include your name and wedding date.
Food Pantry
FOOD is always needed by the Clinton Community Outreach Program's Food Pantry. Bring them to the gathering area, and we will deliver to the food pantry. Thank you!
Remembering Loved Ones
Remembering Our Loved Ones In Death and In Life'
In each Mass that is said in our parish, and most parishes, the priest has a personal intention or prayer remembrance, These intentions are usually requested by parish members and are often for deceased loved ones. The intention can also be for a significant event such as a wedding, birthday, anniversary or any special intention, person or need. For this request, a small stipend is offered, presently $10.00. To schedule a Mass or Masses call the parish office-608-676-2241.
Monthly Cleaning Volunteers
Thank You to the Family Volunteers for the
Month of May
Volunteers Needed!!
Sign-up form along with cleaning instruction sheet is in the Gathering Space at Church
Thank you!
Mass Times
Saturday - 5:00 pm (Reconciliation 4:00-4:30)
Sunday - 9:00 am
Monday - No Mass
Tuesday - 5:00 pm
Wednesday - 8:00 am
Thursday - 10:45 @ Alden Meadow Nursing Home
Friday - 8:00 am
Mark Your Calendar
June

S

un

M

on

T

ue

W

ed

Th

u

F

ri

S

at

1
2
3
4
5
6
7
8
9
10
11
12
13
14
15
16
17
18
19
20
21
22
23
24
25
26
27
28
29
30
Do You Order from Amazon?
S M I L E AMAZON
Remember, if you order online from Amazon be sure to
use the Smile Amazon website then St. Stephen's will receive
5% of your purchase.
NOTICE: When you click on our unique link below
https://smile.amazon.com/ch/39-1461771
you are automaticaly asked if you want to support St. Stephens Catholic Church.
Spiritual Lending Library
There are spiritual reading books available in the hanging book holder in the Gathering Space next to Monsignor's sacristy. Feel free to borrow any book/books you want to read. If you have spiritual reading books you would like to contribute, please bring them to the office. Trade or Share the joy of a good religious book with your parish family. Happy Reading!
Several NEW BOOKS from the Dynamic Catholic Institute have been added to the library.Check out the website: https://dynamiccatholic.com
NOTE: Whether you want to become a great decision-maker, strengthen your marriage, get more out of Mass, or deepen your prayer life, the FREE bestselling Catholic books by Matthew Kelly and other leading Catholic/authors will inspire you to take the next step in your journey. Check it out!
Discover the section on Pope Francis -
News - Reflections, Videos
Also, the "News" section of this website contains up-to-date news-feeds.
Bible Search
Website Questions?
Questions about website information?
Please call St. St. Stephen's Parish Office - 608-676-2241
Office Hours
Mondays & Thursdays: 9:00-3:00
Tuesdays & Wednesdays: 8:00- 1:00
Father Bill's New Address
Fr. Bill Connell, St Mary's Health Center, 3401 Maple Grove Dr., Madison, WI 53719